Home
> Spektrum DX6 with Eflite UMX P-47 BL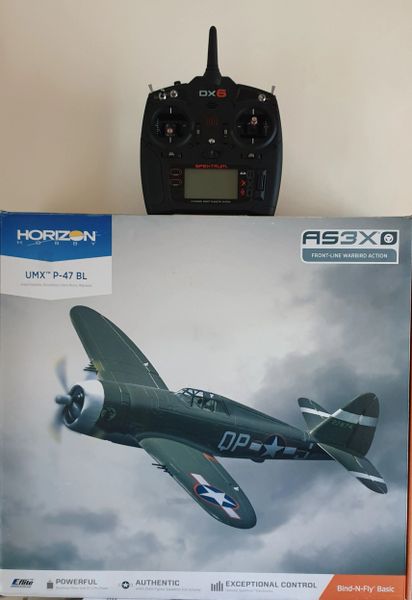 Spektrum DX6 with Eflite UMX P-47 BL
The DX6 has been designed from the ground up to deliver way more than you would ever expect from a 6-channel transmitter in its price range. Instead of having to content yourself with a handful of settings for a couple of model types, the remarkably affordable DX6 gives you an abundance of programming features for airplanes, helicopters and sailplanes. You also get other extras like voice alerts, a wireless trainer link and enough internal memory for up to 250 models.
PROGRAMMABLE VOICE ALERTS
With voice alerts, the DX6 will allow you to keep tabs on important functions without ever taking your eyes off what you're flying. They can be programmed to call out what flight mode you've chosen or report telemetry information on demand. If an alarm goes off, you won't have to look at the transmitter display to see what's happening. The DX6 will tell you.
AIRPLANE, HELICOPTER AND SAILPLANE PROGRAMMING
In addition to its extensive airplane and heli programming, the DX6 includes an impressive list of programming features for sailplanes as well. Five available flight modes, 4 wing types, 3 tail types, a flap-to-elevator curve mix – it has all this and more. The intuitive SimpleScroll™ programming interface makes all of these functions incredibly easy to access and use.
Key Features
Brushless BL180 outrunner power system (installed)
Advanced AS3X

®

 technology delivers rock-solid handling
Realism that includes scale wheels and cockpit detail
Fully assembled with no building required
WWII USAAC 334th Fighter Squadron Trim Scheme
Industry-leading Spektrum

™

 DSMX

®

 2.4GHz technology
Performance linear long-throw servos (installed)
Proportional 4-channel control plus steerable tail wheel
Plug-in main landing gear and tail wheel
4-Blade propeller and a dummy engine
WIRELESS TRAINER LINK
The wireless trainer link gives instructors the option to wirelessly "buddy box" with another DSM2®/DSMX® transmitter. Once bound to another transmitter, ModelMatch™ technology will allow the DX6 to re-link without having to go through the bind process again.
250 MODEL MEMORY
The enormous capacity of the DX6's on-board memory means you will rarely, if ever, need to juggle models between transmitter memory and your SD card. The model memory menu is easier to navigate too. Only memory slots with model settings saved to them will appear. You won't have to scroll through empty slots or move models around if one is deleted.