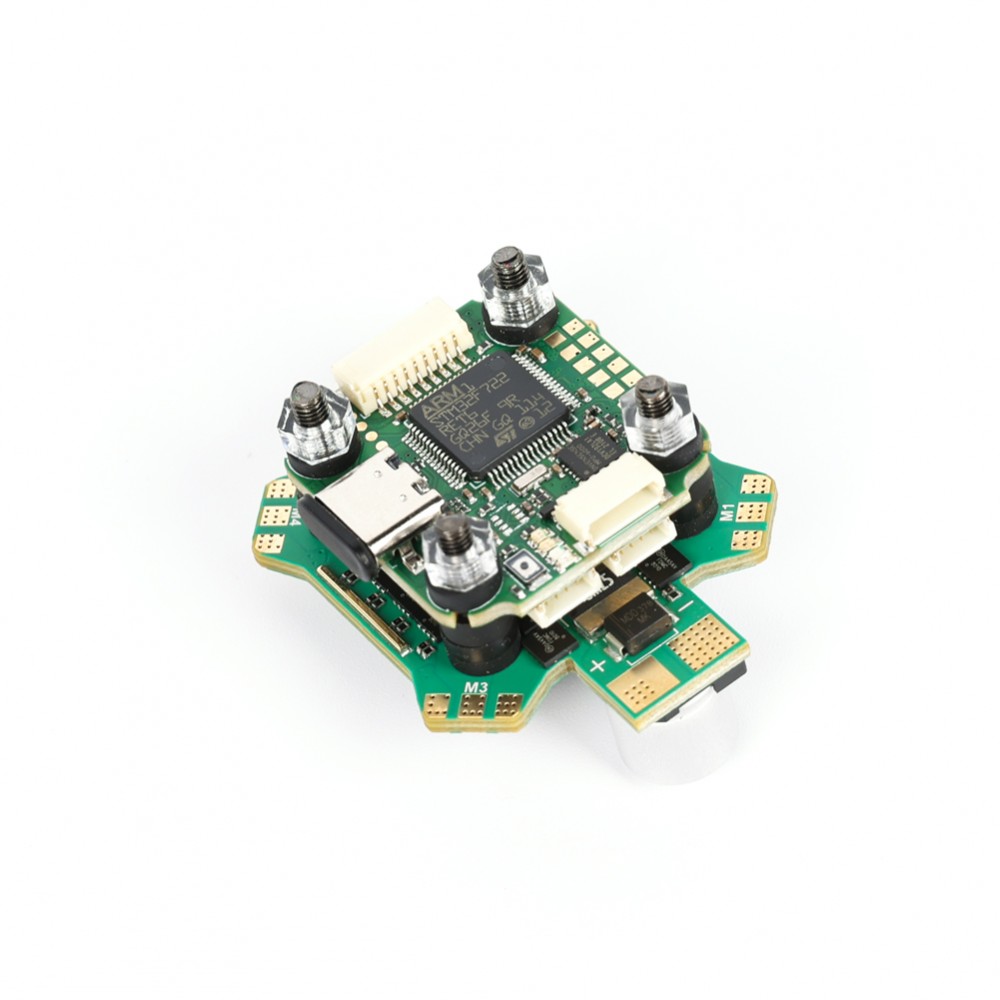 BLITZ Mini F7 Stack (Mini F7 V1.1 + 55A 4in1 ESC) - ANUBIS RC
Description
BLITZ Mini F7 Stack (Mini F7 V1.1 + 55A 4in1 ESC)
The next generation of Flight controllers and ESC's from iFlight have arrived. Currently being used in their BNF quads such as the Evoque BNF. These new flight controllers are equipped with a plug and play connectors making connecting your  video transmitter, radio receiver, and other periphery sensors a breeze. They also make diagnosing issues in the field much easier with status indicator LED's that let you know in seconds if you are having a problem with the 3.3V, 5V, or VBat.
Changelog:
– 2022/Feb: Version updated to V1.1 / Gyro changed to Bosch BMI270 due to availability & price issues with MPU6000.
Top Features:
Improved circuit design, better components and lower electrical noise!
DJI HD VTX Connector (Plug-and-Play / No soldering required)
FC indicator LEDs for visual debugging
Specifications:
MCU:   STM32 F722
Gyro:   BMI270
Barometer:  DPS310
OSD Chip:   AT7456
Flash:   16MB (Blackbox flash)
UARTS:   6
Motor outputs:   4x (SH1.0 connector)
I2C serial:   SDA / SLA pads
Smartaudio / IRC Tramp VTX protocol supported
LED controller:   Yes
Beeper pad:   Yes
Firmware target:   IFRC-IFLIGHT_BLITZ_F722
Mount pattern:   20×20 mm / 4mm PCB hole diameter, silicon grommets for M3 screws
Dimensions:   30.5×27 mm
Weight:   5g
Wiring suggestion:
UART 1 for VTX HD / Analog
UART 2 for a Receiver
UART 3/4/5 for GPS or other sensors that require a serial port
UART 6 for ESC Telemetry
Tips
1. F722 MCU has an inner inverter.
2. SBUS、CRSF、ELRS、IBUS、DSM ETC… can be connected to any unused UART_RX,we suggest you connect to Uart_RX2
3. Frsky SmartPort,Tramp & Smartaudio can be connected to any unused UART_TX,we suggest you connect to Uart_TX1
4. F.port can be connected to any unused UART_TX,we suggest you connect to Uart_TX2
For wiring/pinout/connection manual here
Included Connectors (Plug-and-Play wire harness):
1x SH1.0 – 9pin connector for HD VTX/Analog VTX&CAM (5V/BAT/G/VO/T1/R1/5V/G/VI)
1x SH1.0 – 8pin connector for ESC(R6/CUR/M4/M3/M2/M1/BAT/G)
1x SH1.0 – 6pin connector for any Receiver or DJI(3V3/R2i/5V/G/R2/T2)
1x SH1.0 – 4Pin connector GPS (T4/R4/G/5V)
1x SH1.0 – 4Pin connector LED & Beeper (BUZ/LED/G/5V)
BLITZ Mini 2-6S E55 4-IN-1 BLHeli32 ESC
Specification:
Dimension: 35*42mm
Mounting Holes: 20*20mm/Φ4mm
Weight: 11.3g
Supports 2-6S lipo input
MCU:G071
Constant: 55 Amps
Burst: 60 Amps
Current sensor: Yes
BEC: No
Current rate: 100
Supports: DShot DShot150/300/600/MultiShot/ OneShot etc.
Firmware: BLHeli 32
Target:   IFLIGHT_BLITZ_G1
Package Included:
1 x BLITZ Mini F7 V1.1 Flight Controller
1 set of FC connectors (as above)
1 set silicon grommets
BLITZ Mini E55 4-IN-1 2-6S ESC * 1pc
Power cables & ESC signal wires * 1set