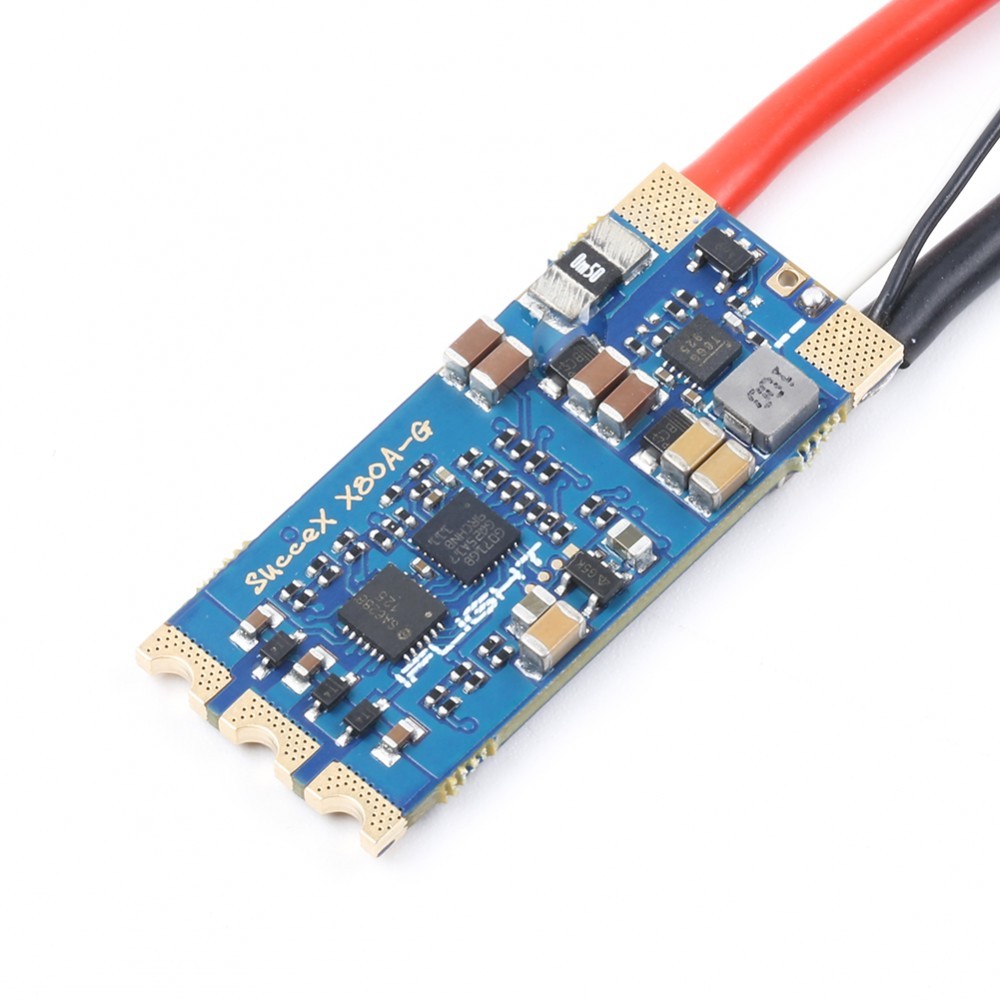 iFlight SucceX X80A 32bit BLHeli_32 2-8S X-Class ESC - ANUBIS RC
Description
iFlight SucceX X80A 32bit BLHeli_32 2-8S X-Class ESC
Changelog:
Due to some global supply issues, the MUC was updated.

Before F051 MCU changed to G071 MCU
SucceX X80A 32bit BLHeli Dshot1200 Single ESC was designed to give your motors smooth power with great stability and durability. The 32bit 48mHz STM32G0716 MCU and 11 pieces TDK MLCC total 240UF Low ESR capacitors bring faster-responding speed and smoother flying experience.
The optional heatsink effectively pulls heat away from the MOSFET, protecting the critical parts of your ESC.40*17mm size, rational layout design with high extended solder pads ensures easy fixes or adjustments. The powerful performance brings you an enjoyable flying experience!
Features
2-8S input (max 10S 50V)
48mHz running speed integrated 3 in 1 STM32F051K66;
80A 8 layers 4OZ copper PCB, better operating load capacity;
11 pieces TDK MLCC total 420UF Low ESR capacitors, lower ripple, and more stable;
Top grade NTMFS5C430NL MOSFET, stable and reliable;
1 * 3528 LED for power- on display;
Rational layout, large soldering pad, countersinks, and semicircle orifices enable each layer to be energized after power-on.
Specifications
Dimension: 40*17mm
Weight:8.1g without wire
Supports 2-8S Lipo input
STM32G071 MCU, 48Mhz Runs BLHELI 32.X Firmware
Capacitance: total 240UF Low ESR
Telemetry output
BEC: No
Supports: DShot DShot150/300/600/1200/MultiShot/OneShot PWM Drive
Target: iFlight-BL32-PRO
Support
Current Sensor
Telemetry output
Motor Timing
Brake on Stop
Includes
1 x SucceX X80A  ESC
1 x 35V 470uf capacitor
1 x Power cables & ESC signal wires
Please make sure the ESC has connected with a 35V 470uf electronic capacitor. Does not support 52xx motors.