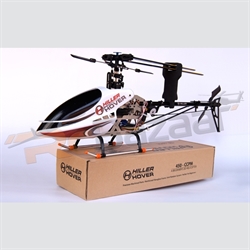 The new Hiller Hover was designed to be made for the first timer who wants to enter the world of 6ch CCPM helis. Now you don't to burn your wallet to learn heli flying as this kit is an absolute value of money.
All parts are perfectly machined and the frame is a very rigid and think fibre glass body.
As per the name this heli boasts of stability, so get this heli now and learn to hover, nose-in orientations and soft flying.
Specification:
• Length:635mm
• Height:228mm
• Main rotor length:325mm
• Tail rotor diameter:158mm
• Main drive gear:150T
• Autorotation tail drive gear:106T
• Tail drive gear:25T
• Drive gear Ratio: 1:10.7:4.24
Package contains:
• Hiller Hover kit
• 1 No: 325mm Wooden Rotor Main Blades x 1 set
• 1 No.: Canopy
• 1 No.: Sticker panel
Required nut not included:
• 3Nos.: Servo: 9g
Click here
• 1No.: High speed rudder servo
Click here
• 1No.: 40A brushless ESC
Click here
• 1No.: Brushless motor 3700KV
• 1No.: Head holding gyro
Click here
• 1No.: 3cell lipo 11.1V 2100mAh 25C
Click here
• 1No.: Transmitter and receiver: 6 channel or more For Helicopter System
Click here

Note: In the product pictures are shown carbon fiber blades, however the kit contains wooden blades



Click HERE for MANUAL




Flight Video (Footage courtesy Emil Paul)