Home
>
FrSky Radio
> FrSky Taranis X9D Plus SPECIAL EDITION with M9 Hall Sensor Gimbal & Eva Case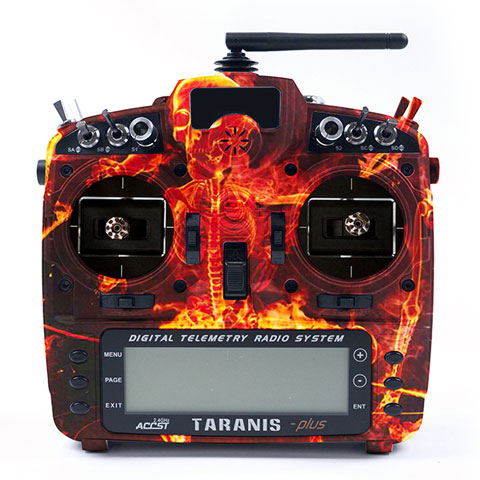 FrSky Taranis X9D Plus SPECIAL EDITION with M9 Hall Sensor Gimbal & Eva Case
This does not comes with any receiver or any battery. 
FrSky has succeeded in introducing a transmitter at an entry level price that outperforms many of the best name brand systems on the market.  You may worry that the quality has been cut to keep prices down.  Compromising quality for the sake of price is not the FrSky way.  FrSky may lack a fancy ad campaign and huge marketing budget, but they do not skimp on the hardware!
The most important aspect for any transmitter is maintaining a rock solid connection with the receiver. FrSky is well known for the frequency hopping ACCST technology taking advantage of the entire 2.4GHz band resulting in excellent range and reliability. FrSky knows many things can affect the connection between Transmitter and receiver so RSSI (receiver signal strength indication) is incorporated into all telemetry receivers. The Taranis transmitter is continually monitoring the reception quality at the aircraft. Taranis will alert the pilot before signal quality becomes critical. This saves planes and makes the hobby much safer
Special Edition Specification: 
Gimbals: M9 Hall Sensor
Stick Ends: Customized M4 CNC Aluminum Gimbal Stick Ends
Shells: Carbon Fiber / Blazing Skull / Camouflage / Rock Monster
Antenna: Detachable SMA Antenna
Switches: Upgraded Switches
Eva Case
Description:
Brand name: Frsky
Item name: Taranis X9D Plus Special Edition
Channels: up to 16 channels
Battery capacity: 2000mAh
Operating voltage: 6-15V( 2S 3S lipo are acceptable)
Operating current: 270mah maximum
Operating temperature: -10 – 60 degree
Backlight LCD screen: 212*64, 2 color combinations for select,send randomly
Model memories: 60(extendable by SD card)
Compatibility: FrSky x series, D series, L series receivers and an V8-II series receiver(plus other receivers if an external module is used)
Including:
EVA Bag
 X9D Plus Standard Configuration
1 x charger
1 x neckstrap
1 x manual
*Note* Wall charger not included.