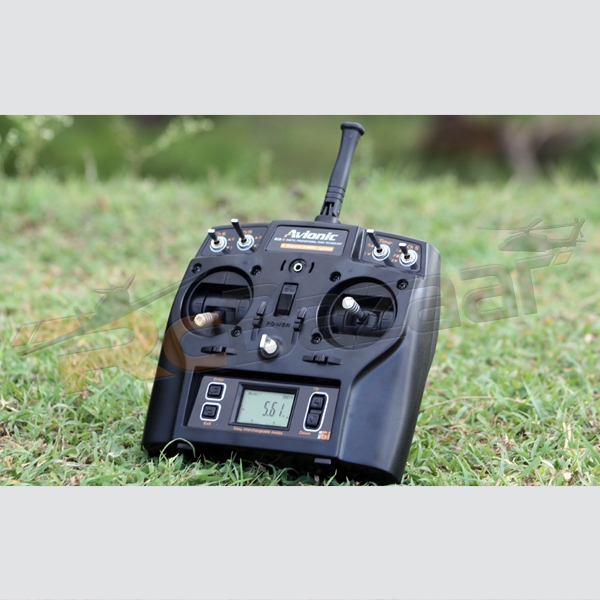 Avionic RCB6i (2.4Ghz 6ch transmitter with receiver)
NOTE: This is a Pre-order product. This product will be ready for delivery by the 1st or 2nd week of March 2020. The prices you see are special prices for Pre-order only.

IMPORTANT NOTICE:
 PLEASE NOTE THAT AS PER THE LEGAL REQUIREMENTS WE WILL REQUIRE A COPY OF THE BUYERS / PAYER'S IDENTIFICATION OF THIS TRANSMITTER/S. Identifications would be a typical driving licence, passport copy, PAN card, rations card, voters id etc...  without this we will not be able to proces your order or sell the radios even after payments, you can email a scanned copy of your identification to 
[email protected]
. In an event of purchase and on non submittance of the identification the payment will be returned to the buyer deducting the bank charges if paid by credit card or debit card or by online transfer through the PAYU or CCAvenue gateway
The Avionic RCB6i is one of the best transmitter in the market for a first timer / beginner in this hobby. This transmitter can be used on any of your planes and with a LCD display screen you can now program the radio at the field and no more to carry your laptop to the field to change any setting. The RCB6i has all the features and more than any high end radio but at a fraction of cost.
Some of the unique features of this radio are
- Interchangeable from mode 1 to mode 2 with the use of a slider at the back of the radio
- remote range test (you dont have to walk a kilometer to find out the range of your receiver)
- variable transmission power (for indoor and outdoor )
Features

• 2.4 GHz FHSS technology provides a highly secure connection, optimum responsiveness, increased range and the ability to fly more 
safely.
• Airplanes /Sailplanes mixes (tailerons, flapperons, V-Tail) and Quads
• Digital trims
• Mode 1 (3) and Mode 2 (4) on flipping a single switch.
• Digital trims on the 4 main channels.
• 8 model memories with model naming on 4 characters.
• Adjustable TX power to suit your range of flying.
• Simulator connector in the front of the transmitter
• Foldable handle and antenna.
• Fail Safe
• Digital programmable transmitter with 6-channel able to effectively control model airplanes or gliders.
• Transmission power in accordance with French regulations choices and international regulations.
• Trainer / Simulator connector available on the top front of the transmitter.
• Sticks are accurate and height adjustable for a perfect fit for the pilot's hands.
• Tie neck strap hook positioned for perfect balanced device.
• Short antenna retractable for easy storage of the device during transport.
• Retractable carrying handle for easy storage of the device during transport and for resting on the ground.
• LCD to enable reading of your settings in any surroundings.
• 4 programming buttons allow quick and easy access to all features.
• Reinforced Security system based on a unique identifier between the transmitter and receiver, as well as the verification of the position of the throttle stick to idle power.
• 4 digital trims with automatic storage for each model memory and visual graphic and audible tones.
• DualRate feature individually adjustable for each of the 3 control axes.
• Reversing feature for each of the 6 channels.
• Pairing functionality with Rx.
• Unique range test feature.
Note:
This transmitter cannot be used on CCPM helis.

Package contains:
• 
1 no: Avionic RCB6i 6 channel 2.4Ghz transmitter, RZ8 8 channel receiver and a manual.
Required but not included
: 4 numbers of AA batteries
Ideally try to use NiMH Batteries (Rechargeable 4.8 V / 800 mA) as they offer optimum and consistant voltage (more than 8 hours depending on the operating mode and power) or use Nicd or any Alkaline AA batteries (4 numbers), batteries are NOT included in the pack.
This product is designed in France.
Click
HERE
to download manual
WARRANTY (IF ANY MANUFACTURING DEFECT) ON THIS PRODUCT FOR 6 MONTHS FROM THE DATE OF PURCHASE (without an invoice the warranty is void). WARRANTY IS VOID IF THE TRANSMITTER IS OPENED IN ANYWAY


Unboxing video


Review of the Avionic RCB6i from Brian's R/C Corner



Range test



Binding process