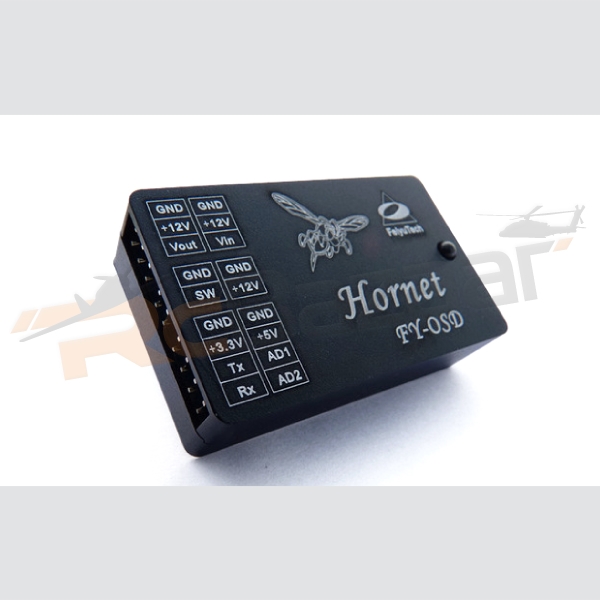 Feiyu Tech FY-OSD Hornet OSD and GPS
The Hornet- OSD overlays flight telemetry information onto your video image. The telemetry information displayed includes flight altitude, flight speed, flight direction, and home direction and so on. You also can save the telemetry information to a MICRO SD card (you should buy the card by yourself, for we don't offer it), then realizing trace playback via FYGCS. The Hornet-OSD can be connected to the FY-21AP, FY-31APand FY-3ZT systems to display autopilot telemetric data, or to a GPS receiver to display positioning data.
Hornet-OSD automatically adapts to either PAL or NTSC video input and confirms if there is a MICRO SD card or not. The adaptive processes are within about 20 seconds.
Once the input video is detected even if there is interruption to the video signal, the telemetry data of the Hornet- OSD will continue to be transmitted via the video stream.
Features::
● SD card potr:playback of flight information in latest GCS
● 
New interface design for easy connection
● 
5V power supply port for stable performance
● 
Waypoint display added
● 
Brand new aluminum box

● 
Compatible with FY31AP,FY3ZT autopilot or GPS module

Application:
Hornet-OSD  can directly connect to the data output port of FY-21AP, FY-31AP or FY-3ZT, or separately connect to the output port of GPS module, and then overlay the flight data information to the video signal.
Hornet OSD is also compatible with FY91Q multirotor controller.

Package content:
● 
1 no: 
FY-OSD
● 
FYGPS (10HZ) module
● 
FYCS100 current sensor
● 
Basic wiring set