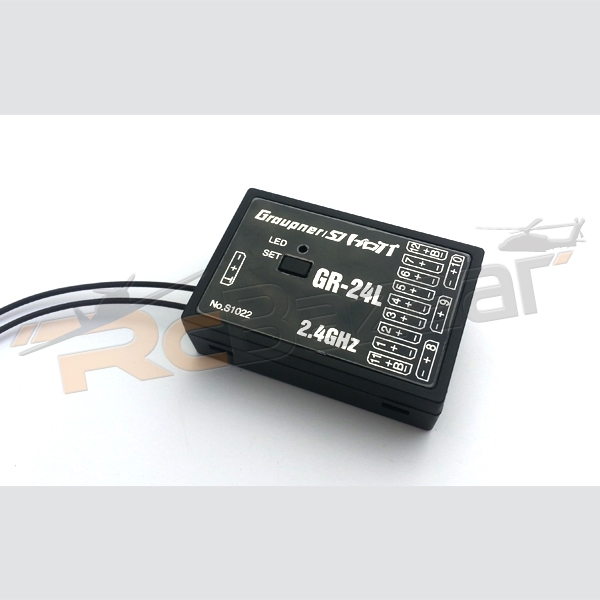 Graupner GR-24L (12 Channel 2.4GHz HoTT Receiver)
Overview 
Graupner "GR-24L", 12 Channel 2.4GHz HoTT receiver is designed with Graupner's unique telemetry technology that supports Bi-directional data transmission to give user the real-time information on RPM, Voltage, Current, Temperature, and warning. The use of up to 75 channels ensures extreme operating reliability and immunity to external interference. The sizes and weights have been reduced; and two diversity antennas support excellent input and output sensitivity. By using receiver's telemetry function, telemetry data such as input and output signal strength, receiver temperature, voltage is sent to Graupner/SJ transmitter so that it ensures excellent response time. Thanks to the optimized size and quality, this receiver can be easily equipped with various models.

Key Features
• The use of up to 75 channels ensures extreme operating reliability and immunity to external interference.
• Two LEDs signal operating status. 
• The optimized size and weight for the best flight condition 
• The further increased range and excellent receiver input sensitivity by 2 diversity antennas
• Servo connections in the front panel.
• Programmable failsafe function in a receiver
• SUMO, SUMD Signal output for the convenient use of gyro and control board

Receiver Functions
• Exponential/Servo test functions on 2, 3, 4 channel
• PERIOD (10ms, 20ms selectable)/Fail safe
• Available to check receiver data
• 5 program mixing types/Tail type
• Channel reverse/Sub-trim, Servo limit
• 5 channel out types (ONCE, SAME, SUMO, SUMI, SUMD HD)

Includes
• GR-24L Receiver
• Manual

WARRANTY TERMS FROM THE MANUFACTURER - this warranty is from GRAUPNER and not from RCBAZAAR. Please contact Graupner directly for any warranty issues
Terms of the OPENHOBBY´s Limited Warranty
OPENHOBBY LLC (we) warrants this product to be free from defects in both materials and workmanship for a period of Two (2) years from the date of purchase. 
During that period, we will repair or replace at our option. If the product deemed to be defective during that period due to those causes, there will be no service charge. The purchaser (you) will be required to provide us the proof of purchase by invoice or receipt. This warranty is limited to the original purchaser and is not transferable.
This warranty does not cover cosmetic damage or damage due to:
- abuse, misuse, accident, act of God, negligence, commercial use
- improper use, installation, operation, maintenance
- alteration of or to any part of the product
- attempted repair by anyone other than an authorized OPENHOBBY service center
OPENHOBBY makes no other than the express warranty above and no other representation. Also OPENHOBBY hereby disclaims any and all implied warranties, including, without limitation, the implied warranties of non-infringement, merchantability and suitability for a specific purpose. Also the purchaser acknowledges that they alone have determined and decided that the product will fit and proper meet the requirements of the purchaser´s intended use. 
Repair or replacement as provided under this warranty is the sole and exclusive remedy of the purchaser. 
Repair or replacement as our sole obligation and the purchaser´s sole and exclusive remedy, will be decided by us. Also it is our sole discretion to determine if a product is defective. OPENHOBBY reserves the right to inspect any and all equipment involved in a warranty claim.
Under no circumstances the liability of OPENHOBBY shall exceed the individual product price on which the liability is asserted. Because of having no control about the purchaser´s or users usage or misuse, final setup, assembly or alteration of our products, OPENHOBBY shall not be liable for any resulting injury or damage. As a result of the setup, assembly or usage, the purchaser or user accepts all of the resulting liability. Please note, that if you are not willing to assume the liability related with the usage of the product we advice seriously not to use it. 
OPENHOBBY shall not be liable for special, indirect, incidental or consequential damages, loss of profits and/or production or also commercial loss in any way, regardless of whether such claim is based in contract, warranty, tort, negligence, strict liability or any other theory of liability, even if OPENHOBBY has been advised of the possibility of such kind of damages. 
These terms are governed by California law (without regard to conflict of law principals). This above limited warranty gives you specific legal rights, and you may also have other rights which vary from state to state. OPENHOBBY reserves the right to change or modify this limited warranty at any time without notice.